Systems Spray-Cooled™ Makes AIST Front Cover
El Dorado, Ark., January 15, 2016 –Systems Spray-Cooled is proud to announce the appearance on the front page of the January 2016 AIST Iron & Steel Technology industry magazine.  On the cover is a new single-bucket charge upper and lower electric arc furnace shells (6,500 ft3/184 m3) going into service at Nucor-Yamato Steel Co. in Blytheville, AR with Systems Spray-Cooled sidewalls and EAF roof.
Also featured in the January issue, our latest ad for Systems Spray-Cooled:
Remember when pressurized furnace cooling was an advanced technology…… Cooling at atmospheric pressure is safer and more productive.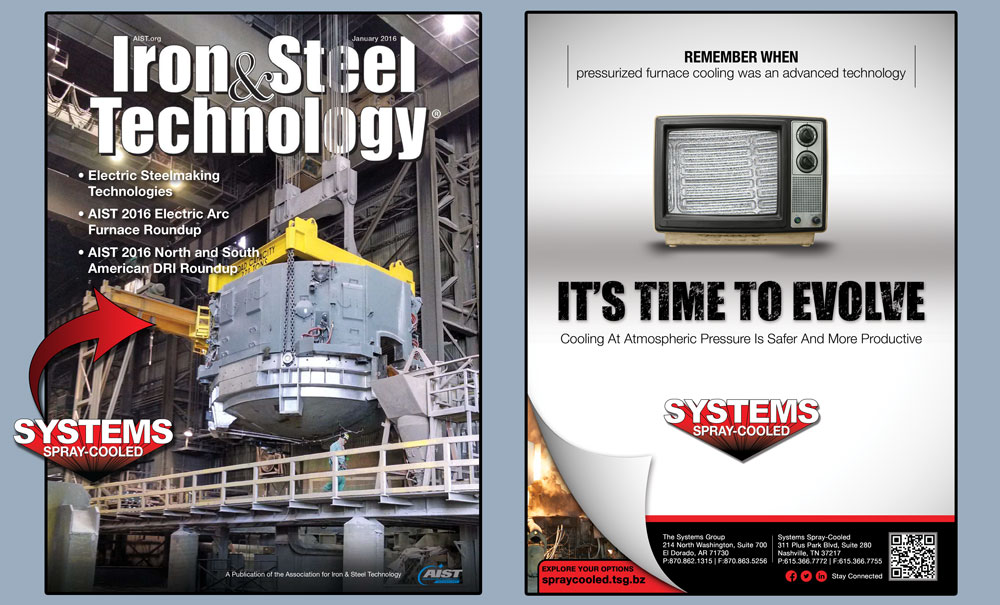 For further information, contact Systems Spray-Cooled, 311 Plus Park, Suite 280, Nashville, TN 37217; phone 615-366-7772; web spraycooled.tsg.bz; email info@tsg.bz.