Front Cover: Initial EAF Heat at
Big River Steel of Osceola, AR
Systems Spray-Cooled is proud to announce the appearance on the front page of the January 2017 AIST Iron & Steel Technology industry magazine. On the cover is Spray-Cooled's newest 165-ton furnace going into service at Big River Steel in Osceola, AR. Congratulations to the Big River Steel team on a successful commissioning!
AIST Safety First Article
EAF Explosions: A Deadly but Preventable Problem
Hazards are ever-present in the steel plant environment, and a heightened awareness and emphasis on safety is a necessary priority for our industry. This monthly column, coordinated by members of the AIST Safety & Health Technology Committee, focuses on procedures and practices to promote a safe working environment for everyone.
This month's Safety First Article is authored by Scott Ferguson and Nicholas Zsamboky and highlights the inherent dangers of Electric Arc Furnace explosions caused by pressurized water leaks. (pages 30-35)

AIST Technical Article

Single-Bucket Charge Conversion at Nucor-Yamato Steel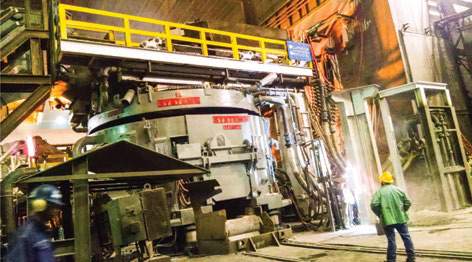 In 2011, having reached peak performance of its two-furnace meltshop, Nucor-Yamato Steel looked for ways to further reduce cost and improve overall meltshop performance.  A single-bucket furnace conversion was chosen.  This paper recounts the conversion engineering, installation and performance results to date of the project.  (pages 72-79)
Come Visit Us at AISTech 2017!
AISTech 2017 will be hosted in the beautiful city of Nashville, TN. Everyone is expecting another huge turnout. Don't miss out!
Booth #1703 (You can't miss us!)
For further information, contact Systems Spray-Cooled, 877 Seven Oaks Blvd, Suite 500; Smyrna, TN 37167; phone 615-366-7772; web spraycooled.tsg.bz; email info@tsg.bz.