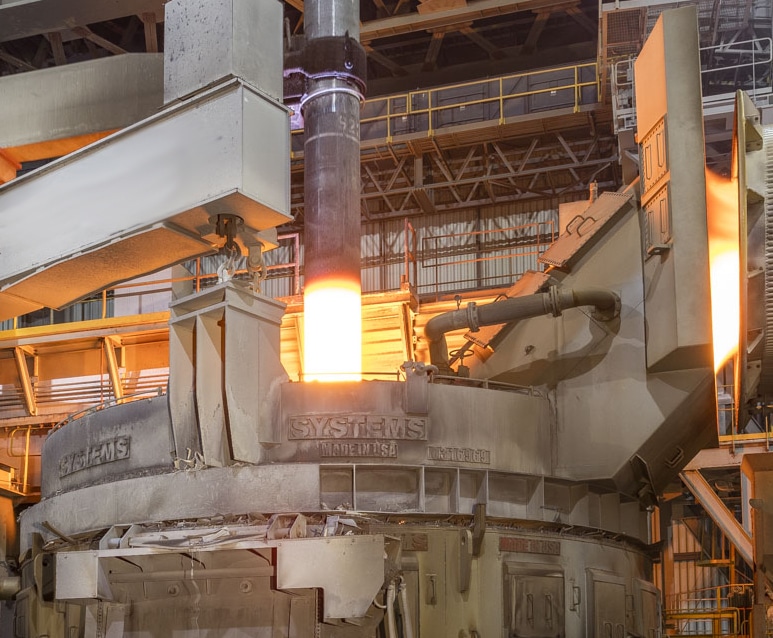 October 2019, Nashville, TN —Industeel Belgium sa ("Industeel") has placed an order for a new Spray-Cooled™ Electric Arc Furnace (EAF) Roof and Elbow with Systems Spray-Cooled.  The 2020 design-build project includes a new EAF Roof, Elbow, engineering, laser scans, and accompanying equipment that will replace its existing tubular equipment.  The full scope, in conjunction with partner tripleS GbR, includes gantry and alloy chute modifications, and RTD monitoring.
Industeel is a wholly owned subsidiary of ArcelorMittal Group located in Charleroi, Belgium.  They are a producer of stainless steel, high strength, and other corrosion resistant alloyed steel plates, leading the market in special alloyed plates for cryogenic service, oil and gas, and nuclear.    Industeel is a specialized producer of hot rolled as well as forged steel plate, ingots, and formed pieces, with the largest dimension range worldwide. The mill has been producing steel for nearly 200 years, dating back to 1836.
Industeel's decision to install Spray-Cooled™ equipment was based on the need for the safest, most environmentally friendly, lowest cost option (supply and maintenance) along with the extended life and performance for water-cooled equipment.
For product information, go to https://spraycooled.tsg.bz/applications/eaf-roofs/. For general information, contact Systems Spray-Cooled at +1 (615) 366-7772; email info@tsg.bz web spraycooled.tsg.bz.