Systems Contracting advances 10 positions to #318 in the 2014 Engineering News-Record's Top 600 Specialty Contractors.
El Dorado, Ark., November 20, 2014 – Systems Contracting Corporation, a leading contractor serving the industrial, municipal and commercial construction markets, has been named one of the Top 600 Specialty Contractors nationwide in an annual ranking report released by Engineering News-Record (ENR), a leading U.S. construction/engineering industry publication. Ranked #318 – 10 positions higher than last year – Systems Contracting is the highest-ranked Arkansas firm on the list and has been part of the ENR "Top 600" for three consecutive years.
Systems Contracting does extensive work for steel mills, foundries and other facilities. The company's numerous specialties include but are not limited to process piping, structural concrete, structural steel erection, equipment setting and alignment, plant maintenance services, boiler and pressure vessel installation, service and repair, and machining and fabrication services.
Headquartered in El Dorado, Arkansas, Systems Contracting also has offices in Decatur, Alabama; Blytheville, Arkansas; Crawfordsville, Indiana; Ghent, Kentucky; Columbus, Mississippi; and Cofield, North Carolina. It is part of The Systems Group, a diverse group of companies engaged in fabrication, plant maintenance and construction activities.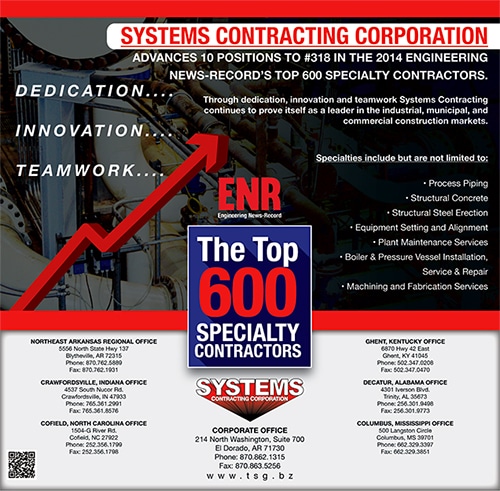 Through dedication, innovation and teamwork Systems Contracting continues to prove itself as a leader in the industrial, municipal, and commercial construction markets.
Specialties include but are not limited to:
For further information, contact Systems Contracting Corporation, P.O. Box 11390, El Dorado, AR 71731; phone 870-862-1315; web contracting.tsg.bz; email info@tsg.bz.